OKAY SO I PROMISED THIS WEEK AND THE WEEK AIN'T OVER YET. :) So here goes!

First of all, in case you didn't know, there is a Facebook group for this business. Hooray!

Oh, before we get on to the arty stuff, I wanted to let you guys know (if anyone's curious) that the Lulu print version of the book has sold EIGHTEEN COPIES. Probably that doesn't seem like a lot to you, but to me, it is freaking incredible. It's the most I've ever sold of anything I've written, and considering anyone can hop online and read it for free, I think that's pretty cool. Thank you so much to everyone that's bought one! I think they're starting to ship out now...it would sure be awesome to see pictures of you guys with your books...*hint hint*

NOW FOR THE STUFF. THE AWESOME STUFF. CAN I JUST SAY THAT YOU GUYS ARE AWESOME? SERIOUSLY.



First of all,
mydnight_dreams went mad with creative power and made some amazing Xlormp/Frig art. I love it to pieces. It makes me want a Xlormp of my own (as if I didn't already).




Before you go all "Blergh, Xlormp isn't really that sexy in real life!" I'd like to point out that the artist drew this according to how the characters see each other. Which I find incredible.

She also concocted this book cover:




(Psst...I would love to upload this onto Lulu...did you get my note about the size it needs to be? I feel like a dork butt for not giving that info to you in the first place!)

AND THEN IF THAT WEREN'T ENOUGH, she created some customized clothing just for the hell of it: It's over here. There is Xlormp underwear. If that isn't enough to entice you, I don't know what to do with you.

Next,
black_panda_ops took the pictures of the knitted Xlormp, and crafted something pretty amazing:


blindedxxfalcon did some fun icon-based art work:




The rest is here!


indigopelican created cover art inspired by this amazing Twilight comic (not hers, but you should read it anyway because it's AMAZING):




(Same thing applies...I'd love to use this on Lulu, I just need it in the right size! :)


asagi drew my mother's personal favorite art, a portrait of Lou in all his glory: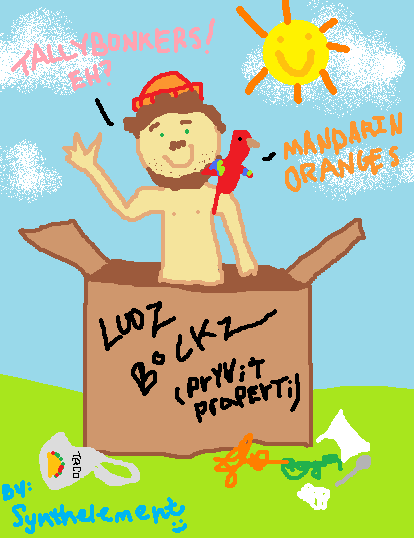 I love that he's saying "Eh". IT'S FUNNY BECAUSE HE PROBABLY THINKS HE'S CANADIAN.


ICONS OH MAN

So here's the deal, I'm going to post teasers, and then links to where you can find the rest. Some of you went crazy on the icon front (WHICH I AM TOTALLY OKAY WITH)!


mydnight_dreams Made some icons based on her art:

Teasers:



The rest are here!


emmafightsevil made a few cute icons based on some quotes (I particularly like the park sign!):


jinx_star made a TON of quote icons:

Teasers:





The rest are in three...different...places.

One of my favorite icons, by
scrapbookart:


ladykatyjane shows us what happens when we mix Xlormp icons with purple:






loudlunacy made some Xlomrp icons as well as some Twilight icons, and they are all awesome!

Teasers:



See them all!

Some adorable quote icons from
kirra:

Teasers:



And the rest!

Somebody sent an anonymous submission of icons!


bobfredgeorge05 made a few icons:






(The first one came from this thread.)


draconravie made a couple icons:




AND FINALLY, five icons from
reira_21:







AND THAT'S IT. SHEESH.

Thanks again, you guys, for gifting me with such awesome work! I love it all!